Jurgen Klopp has reaffirmed his commitment to Liverpool, with words that will be music to the ears of supporters.
Speaking in an interview with German outlet RTL, amidst questions over potentially taking over as the Germany national team manager, Klopp has given an unequivocal response.
"We're building Liverpool 2.0 here, we want to attack again and not just look at how much longer can we go on," Klopp said, via Sport Witness.
"I have a loyalty to Liverpool. My heart is here in Liverpool."
The boss arrived at Liverpool eight years ago next month, and signed a new contract in April 2022 that ties him to the club until summer 2026 – which will bring up 11 years at Anfield.
It will be, by far, the longest tenure of his managerial career.
"You can't just cut out the eight years," he said. "I signed a contract here and, as far as I can remember, I wasn't drugged or tied up and had to sign with my mouth!"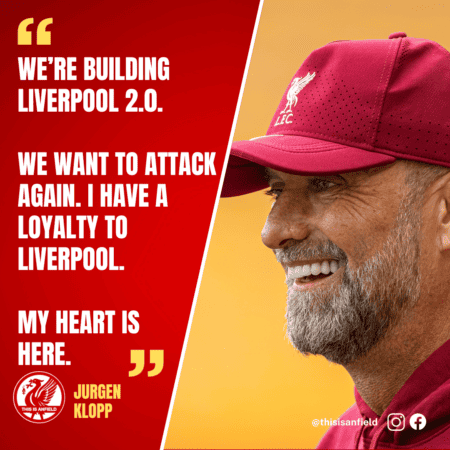 After the disappointment of last season, Klopp seems particularly energised and reinvigorated by his new-look squad after a summer of upheaval.
Incredibly, from the 23-man squad that featured in the Champions League final in 2019, only nine players remain – Klopp has told his squad this is year one, not year eight.
The manager appears to be set on making 'Liverpool 2.0' successful – and if he does, it would be the first time he has rebuilt his own squad to go on to achieve success, having departed Mainz and Dortmund after seven years each.
On the new German national team manager, Klopp said Julian Nagelsmann – who is widely expected to take the job – would be a great solution:
"I think Julian is a great solution because he is a great coach. I would be very happy about it – if it happens that way."
But it's his words about the Liverpool job and how happy he is on Merseyside that will please Reds fans.
Could we even see Klopp eventually extend his stay beyond 2026?
Already he is Liverpool's longest-serving manager since Bill Shankly. He's also the fourth longest-serving manager in Premier League history.
https://www.thisisanfield.com/2023/09/jurgen-klopp-wants-to-attack-again-my-heart-is-here-in-liverpool/ منبع: