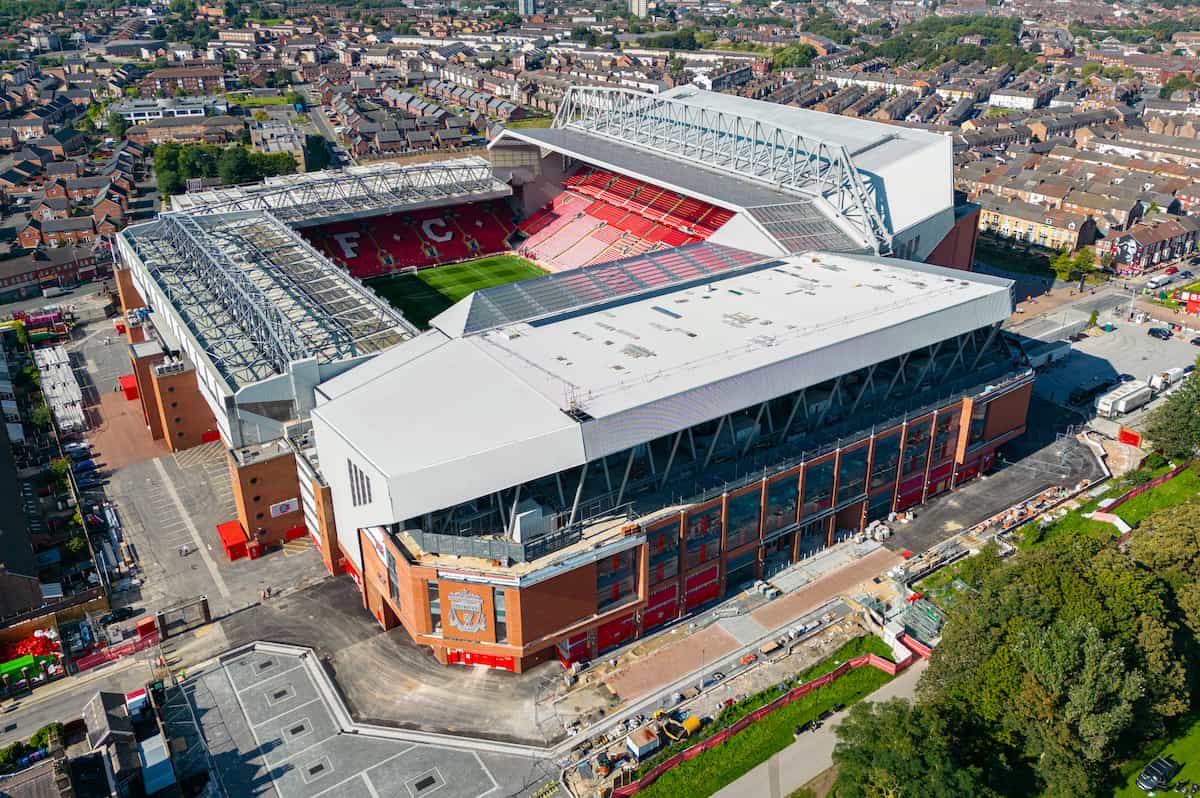 Liverpool have confirmed that Rayner Rowen Construction have been appointed to lead the final stages of construction of the new Anfield Road Stand.
The Reds have been forced to find a new contractor to finish the stand off following Buckingham Group's shock collapse into administration.
All work had been paused as a result of that development, but Liverpool have moved quickly to ensure that it can resume in a bid to get Anfield up to full capacity as soon as possible.
And with Rayner Rowen Construction revealed by This Is Anfield on Tuesday as one of the parties under consideration, the club have now confirmed their appointment.
As was the case for games against Bournemouth and Aston Villa, the top tier of the new stand will remain shut for the visits of West Ham, Leicester City and Royale Union Saint-Gilloise.
Official attendance figures for those two home games were 49,699 and 50,109 respectively.
The hope is that the upper section can then be opened in phases, as was the plan prior to Buckingham's demise.
However, senior figures insist that these plans are subject to change, with Rayner Rowen working to produce a revised project completion programme after taking over the project.
Chances of meeting any new deadline have been boosted by the return of a number of workers to the site today.
Many sub-contractors previously employed by Buckingham will also be part of the project's continuation.
LFC statement on tickets
"For the West Ham United, Leicester City and Union SG fixtures, the capacity of Anfield will be the same as the opening two games of the season against AFC Bournemouth and Aston Villa, meaning the upper tier of the new Anfield Road Stand will remain closed.
"Our ticketing team will be in touch directly with those supporters who will be impacted.
"All general admission season ticket holders and Members with 13+ credits will continue to be accommodated for our Premier League fixtures.
"Further details on our upcoming cup games will be provided in the selling details when published on our website.
"Other ticket allocations across the board will remain at a reduced allocation in line with the first two home games of 2023/24."
https://www.thisisanfield.com/2023/09/liverpool-confirm-new-anfield-road-stand-contractor-as-work-resumes/ منبع: