Virgil van Dijk was handed an additional one-match ban for his conduct towards the referees, and a letter from Liverpool reveals his frustration was born from an "inconsistent approach."
The Liverpool captain's red card against Newcastle resulted in a one-match ban, but his subsequent reaction to John Brooks' decision saw it double to two.
Van Dijk has since accepted the verdict after the "expensive lesson," as he was also fined £100,000 for actions the FA felt were "highly inappropriate."
As per every incident, the FA has published the decision and written reasons for Van Dijk's case, which included a letter from Liverpool about the incident – it highlighted the frustrations that exist over officiating inconsistencies.
It read:
"The Player wishes to convey that his frustration arose from his genuine belief that his tackle on the NUFC player, Alexander Isak was a fair challenge and not a foul.

"In our discussions with the Player about the Incident following receipt of the Charge Letter, the Player has explained to us that he did the same or a very similar tackle against Dominic Solanke during the Club's match against AFC Bournemouth the week before on 19t [sic] August 2023 and that tackle was not deemed a foul.

"This seemingly inconsistent approach contributed to the Player's frustration.

"He is adamant that he did not call the Referee a 'fucking joke' and that he was referring to the Referee's decision and the subsequent decision by the VAR not to overturn the decision when he said 'absolute fucking joke'."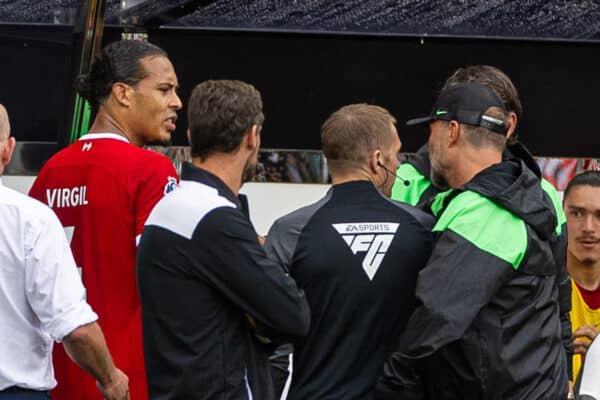 On the last point, however, the panel "comfortably conclude[d] that VVD's words were aimed towards the Referee personally."
They went on to conclude that Van Dijk's actions were "highly inappropriate and avoidable" and that the Dutchman fell short of the standards required by Premier League representatives.
Liverpool argued for a one-match ban for his actions but the FA tabled two as that is "the automatic sanction for a player dismissed for 'using offensive, insulting or abusive language and/or actions'."
They also felt a £150,000 fine was appropriate, but both the ban and the fine were reduced when the final decision was made thanks to Van Dijk's "admission and subsequent apology."
Van Dijk will serve his one-match ban when Liverpool travel to Wolves on Saturday, where, hopefully, the Reds can make it two games in a row with 11 men on the field at the final whistle.
https://www.thisisanfield.com/2023/09/liverpools-letter-to-fa-reveals-van-dijks-frustration-over-inconsistent-referees/ منبع: