In October, Jurgen Klopp will celebrate eight years as manager of Liverpool FC, but he has told his squad that they are approaching "everything" with a "year one" mentality.
The evolution of Klopp's squad has been discussed far and wide over the years, questions over what comes next and how this team rebuilds itself.
Four new midfield arrivals and the exit of a host of senior players has created a fresh look in the engine room this summer, something that was desperately needed.
The manager knows it is "still early days" as "we have to build a team" once more, not a "replica" of what came before but a "new team," and that is what has brought on the "year one" mentality.
"What we did is we changed a few things, we brought in new players," Klopp told reporters on Friday.
"Maybe for me a big difference is, and I said it to the players, obviously, that this is not year eight, I think in October I'm here eight years, [but] this is year one of the new team and that's exactly how we approach everything.
"We changed a lot of things, brought in a few guys to give an interesting insight in their lives and we want to become a new team and not the replica of the other team.
"That's what we are working on. I'm fully in, this is year one of whatever and not year eight of the good old past."
Klopp's comments are akin to his words from his very first press conference, when he said: "History is only the base for us. It's not allowed that you take the history in your backpack."
This is a new reiteration of the team and Klopp feels it is an "easy" team for supporters to love.
"I said before the Aston Villa game when I stand in the dressing room and look at the team I really, really love this team," Klopp said.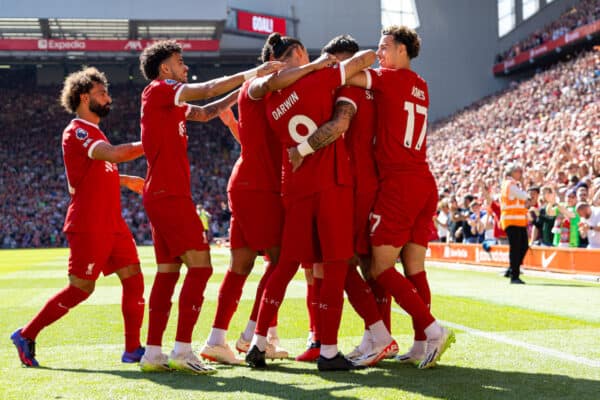 "It's early days, and I really think it's easy for people to love this team as well.
"It's all what we need because we cannot, and Liverpool never could, they cannot start loving a team when we won something, we have to do it before, because that's the only chance we can win something.
"So, let's go for it and then we will see."
https://www.thisisanfield.com/2023/09/this-is-not-year-8-this-is-year-1-jurgen-klopp-fully-in-with-new-liverpool-squad/ منبع: